Chefs Helping Chefs Welcome Chef David Ivey-Soto to the Team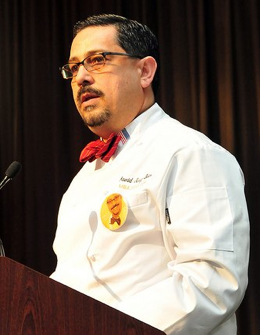 David Ivey-Soto MBA, CEC®, CCA® has diverse industry experience of over twenty-five years in fourteen countries on five continents has provided him with insights into the foodservice industry and the experience to share his expertise. He is a former National Secretary of the American Culinary Federation serving on its Board of Directors.
Chef David has been featured in National Culinary Review, ESPN The Magazine, Freekick, The Daily News of the Virgin Islands, Newsweek, The Washington Post, among other publications and has been featured on WRC-TV NBC 4, Washington, DC.
Before starting his companies, Chef David was the Training Development Manager at UniPro Foodservice, Inc. There his responsibilities included instructing menu management programs, designed to assist both the operator and the distributor sales representative in understanding the importance of the menu and how it relates to profitability. He was also charged with helping to develop and implement a series of training programs for the foodservice industry.
David Ivey-Soto earned his AOS from the Culinary Institute of America where he was on the Dean's List, was the Student Council President, and was Sommelier de Vin. He was honored to be selected as a Fellow of the Culinary Institute of America where he worked with chefs Clark and Canner in the Fish Kitchen and with Mr. Schmitter in the American Bounty Dining Room. [Fewer than 2% of all graduates of the CIA are selected to serve as a Fellow.] He has been a candidate for Master of Wine and Master Sommelier, which he pasted two of the three sections. He earned his Certified Executive Chef from the American Culinary Federation in 2000 and has earned his Certified Culinary Administrator. In 2005 he earned his MBA from the College of William & Mary. He has competed in many culinary competitions.