Chefs Helping Chefs Welcomes Chef Manfred Schmidtke CEPC, CMB to the Team!
Chefs Helping Chefs Welcomes Chef Manfred Schmidtke CEPC, CMB to the Team!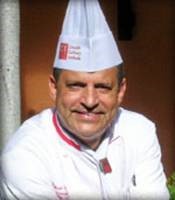 Manfred Schmidtke CEPC, CMB
It all started as a small child on a bike. I delivered fresh hot rolls with fresh milk to people in my town which was a small quaint village in Northern Germany. The rolls inspired my career as a Certified Master Baker and Executive Pastry Chef. I became inquisitive about those hot rolls. Therefore, I decided to pursue a career as a pastry chef. I have been in the baking and pastry business for over 35 years in several capacities which has yielded a huge success. The fun of tasting sugar for so many years could make anyone have the sweetest of sweet tooth! My training was in Germany and it opened doors to an interesting career around the world. After completing my training, I travelled to several different countries around the world. The experience I gained was invaluable – so many different pastries in so many places. After my travels abroad, I arrived in America and became the proud owner of an exclusive pastry shop in the suburbs of Philadelphia. I made fancy pastries and artisan breads. People would travel for up to one hour to get my sticky buns on a Sunday morning. Being German I naturally made German pastries which drew a unique population of customers.
As life progressed, I decided to make a career change. I discovered I had a hidden talent for teaching. Teaching became a passion and I have been teaching baking and pastry for over 20 years. Sharing my knowledge with new aspiring pastry students is what inspires me every day! To see a new chocolate / sugar creation created by a pastry student makes the circle complete in my life of baking and pastry. My expertise stem from the fact of having work in so many different countries, and never to stop leaning.